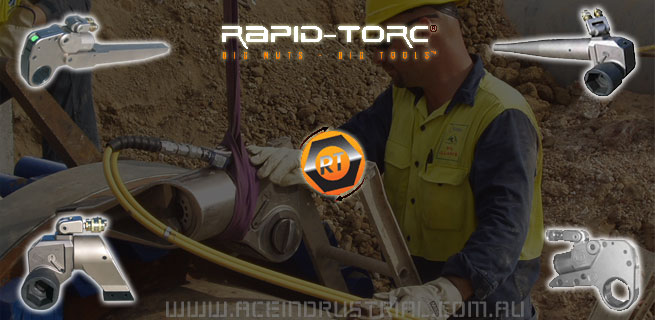 The Rapidtorc RT Hydraulic Torque Wrenches are designed to be the smallest, lightest and most powerful Hydraulic torque wrenches for use with Impact Sockets. The RT Hydraulic Torque wrench series are popular in Mining, Petrochemical, Locomotive, Engineering, Construction and more. These hydraulic tools offer simple solutions for challenging heavy industrial environments. The Australian Market needs good products. Australia has minerals to export, power to generate and maintenance running 24/7. The Rapidtorc Hydraulic Torque Wrench will save you time and money.
Rapidtorc offer 9 Hydraulic torc wrench models from 55 to 52,500 Ft Lbs. Hydraulic torque tools have become the answer in mining petrochemical and power generation and construction to ensure correct bolt torque.
Rapidtorc Australia offer the RT square drive Hydraulic torque wrench and the RTX Hex cassette Hydraulic torque wrenches. The rapidtorc tools have become very popular in Australia due to their reliability and quality. Distributors and Service centers Australia wide offering local service repair and calibration. PDF RT Square Drive Hydraulic Wrench
ACE INDUSTIRIES are proud to offer quality products. Norbar Torque Tools Wren Hydraulic Torque Wrenches Action Impact Sockets Momento Impact Sockets Ingersoll Rand Impact Guns IR Specializing to heavy industry TTS ( Torque Tool Supplies ) offer specialized solutions for torque and Impact. Drawing from over 30 years experience answers and solutions are only a phone call away.
We look forward to hearing from you, and thank you for visiting our web site. Supplying to QLD Queensland Brisbane Mackay WA Western Australia Perth Karratha NSW New South Wales Sydney Newcastle VIC Victoria Melbourne SA South Australia Adelaide Hire and Sales